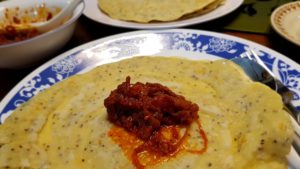 Lempeng is an all time favourite in our household, usually served for breakfast or during afternoon tea. Lempeng goes very well with Sambal Anchovy or Sambal Sardine.  How was this "invented? I presumed during the olden days Mother's have to prepare breakfast for large family and and at the quickest time as they need to attend to their farm or household chores. So they would mix flour, water and salt into a  batter and pan fried them, and with coconut is in abundance, they added some grated coconut into the batter. This recipe I am sharing will be based on #TAGPakUu (Seasoned Flour mix) as the based ingredient for the basic lempeng with the option to add other ingredients to it.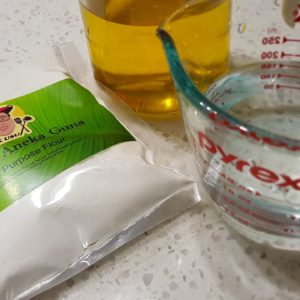 Lempeng Kelapa Chia Seed (Coconut Crepe with Chia Seeds)
Ingredients
1

packet

#TAGPakUsu

approximately 250 gm

1 1/2

cup

Water

2

tbs

Cooking Oil

Cooking Oil

if Not using Non-stick Pan
Optional
50

gm

White grated coconut

10

gm

Chia Seeds
Instructions
Combine all the ingredients into a mixing bowl.

Mix well, ensuring there are no lumps.

Heat the a Non-stick flat pan (mine is 28 cm). Set to low fire/

Scoop about half cup batter into the pan. Rock the pan to even out the batter.

Once the "lempeng" turns opaque, flip it and cook for another 1 minute. Transfer it to a plate.

Serve the "lempeng" with your favourite sambal and it is also nice eaten on its own.