5 Ramadhan 1439H – Mee Soto is one of the must have  dishes that Late Mum  will prepare every time during the fasting month of  Ramadhan This Soto recipes uses the  brand of Soto spice mix  which is a favorite of Late Mum, however it can be easily substituted with  any spice mix available in the market.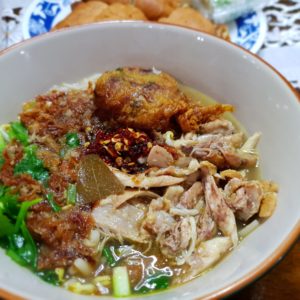 Day 5 - Mihun Soto
Ingredients
4

tbsp

Onion paste

1

tbs

Ginger Paste

1

tbs

Chopped Garlic

8

pc

Chicken Wing

Seasoned with a little salt

2

tbs

Kak Zah Soto Spice Mix

2

tbs

Babas Soup Spice Mix`

1

pc

Chicken Stock cube

6

bowls

Water

add more if necessary

4

tbs

Cooking Oil
Whole Spice
1

pc

Cinnamon stick

1

pc

Star anise

5

pc

Cardamom
Instructions
Heat oil in a large pot. Add in the whole spices. Tamper till fragrant.

Add in chopped garlic, saute till golden brown.

Add the onion and ginger paste. Stir.

Add the Soto and Soup spice mix together with a little water. Mix well. Pour in the rest of the water.

Add the Chicken and Chicken stock cube. Allow it to boil then turn down the heat.

Let it simmer for abut 15 minutes or till the Chicken is cook. Seasoned with additional salt or add more water if necessary. Served soup hot with choice of yellow egg noodle, bee hoon or lontong (rice cake).